The Post-Pandemic Workplace
Moderator: Mary Barroll (TalentEgg)
Panelists: Ariane Lamy (SNC-Lavalin), Mehak Shoeb (CIBC), Whitney Perrett (Chick-fil-A)
As we emerge from the Pandemic, many of us will be facing very different kinds of workplaces than we did two years ago. Companies like Shopify and AirBnB have announced that they're embracing a "work from anywhere" policy and becoming completely remote workplaces. Other companies like CIBC and SNC Lavalin are either welcoming employees back to the office or embracing some kind of hybrid model. Many other employers are still experimenting with some combination of work-from-home, remote and hybrid workforces to figure what will work for them in the future. This panel will discuss some of the challenges in overcoming returning to the office jitters, how to maintain culture among remote employees, how to support employee engagement among staff in these varied workplace styles, and explore the new demands created for recruiting and onboarding students and grads into these new workplaces.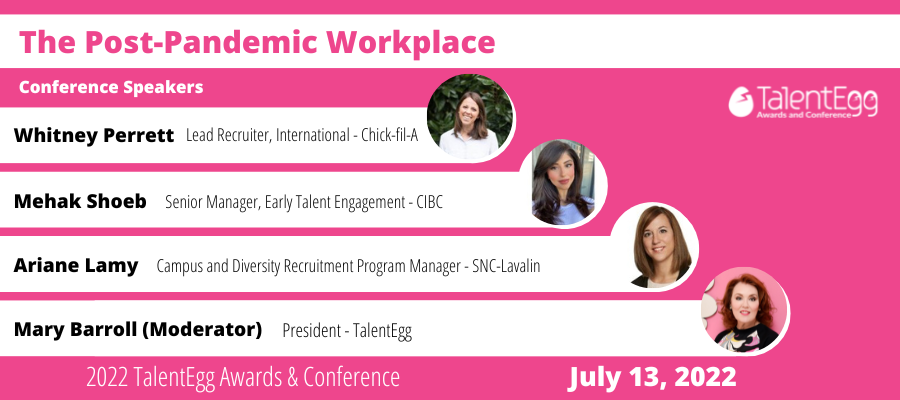 New Trends for The Future of Campus Recruitment
Moderator: Mary Barroll (TalentEgg)
Panelists: Carolyn Seward (Career Connections), Shalise Goffe (CIBC), Jennifer Smith (Everything Podcasts)
Now that almost everything has opened up, it's time to decide where to put your campus recruitment efforts. In post-pandemic life, it can feel like there is an overwhelming number of options. Where is the best place to put your campus recruitment resources? Is virtual recruitment here to stay or is it critical for recruiters to return to campus? Or is some kind of hybrid strategy the best way forward? This panel will explore the new ways of recruiting and employer branding that emerged during the pandemic, assess their applicability to the future of recruitment during fall 2022 and beyond, as we gaze into the crystal ball of the future of campus recruitment and introduce some new employer branding strategies.

The Importance of Soft Skills in Today's Workplace
Moderator: Mary Barroll (TalentEgg)
Panelists: Diana Kawarsky (The Soft Skills Group Inc.), Donna Marshall (Workright Ltd.), Trevor Buttrum (CACEE)
In 2019, LinkedIn's Global Talent Trends Report highlighted that employers increasingly value so-called "soft skills". 92% of talent professionals reported that soft skills are equally or more important to hire for than hard skills. And 89% said that when a new hire doesn't work out, it's because they lack critical soft skills. With the pandemic driven remote work, remote studying and virtual events that students and grads have experienced over the last 2 years, soft skills — and new ones required for virtual workplaces — are arguably even more critical than ever before. How can you and your team adapt and be on the cutting edge of these changing soft skill trends?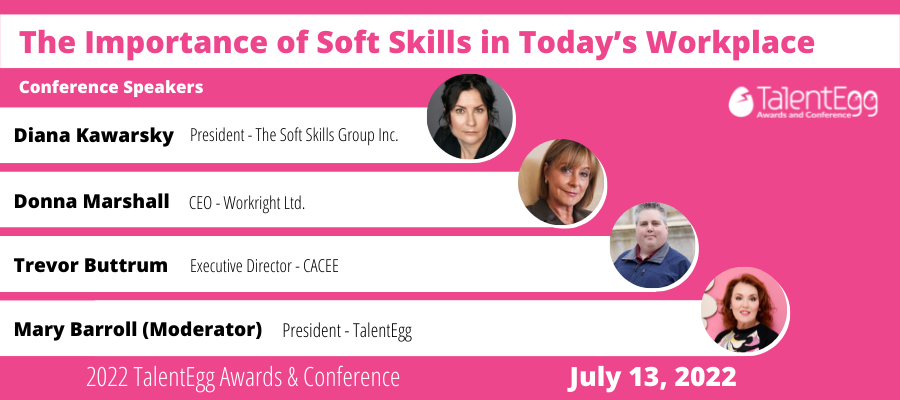 Mental Health in the Workplace
Moderator: Mary Barroll (TalentEgg)
Panelists: Dr. Stephanie Bot (Dr. Stephanie Bot & Associates), Minami Alguire (Bell), Chelsea Hill (Vale)
In LifeWorks' recent 2022 Mental Health in the Workplace Report it was identified that since April 2020, the mental health of Canadians has been 10 points or lower than the pre-2020 benchmark. They also found that more than two in five Canadians end their workday feeling mentally and/or physically exhausted and more than one-quarter of Canadians cannot disconnect from work after usual work hours. At the same time, students and grads report that support for mental health in the workplace is an important driver of their decision about where they want to start their careers. In this panel we'll discuss important mental health initiatives you can explore for your workplace and strategies for supporting your team, as well as highlighting your safe and supportive workplace culture as part of your employer brand.

Diversity, Equity and Inclusion Hiring and Workplace Practices
Moderator: Trevor Buttrum (CACEE)
Panelists: Josh Basile (accessiBe), Devon Peterika (Worley), Tara Monoghan (Export Development Canada)
In the wake of the 2020 death of George Flloyd, last year was marked by tragedies such as the discovery of mass graves at the sites of Residential Schools, discrimination and violence again Asians and a vehicle attack on a Muslim family in Canada. In 2022 Anti-oppression and anti-racism movements have continued to build momentum, causing many employers to take a long, hard look in the mirror to face their own challenges related to systemic racism, bias in hiring, and microaggressions in the workplace. Ethical employers continue to navigate through new hiring practices that offer a more inclusive and diverse experience while also creating more safe and welcoming workplaces for all. Join us as we explore best practices on how employers can incorporate diversity, equity, and inclusion as part of their recruitment and employee engagement strategies.

2022's TalentEgg Student Survey Results – What Students Want in their Recruitment, Onboarding and Career Journey
Presenter: Mary Barroll (TalentEgg)
In the first half of 2022, TalentEgg has been collecting data from students, new grads and working professionals to find out the latest trends in what they're looking for in their next workplace and employer, what they're passionate about, what's most important for them in building their career, what inspires them and what turns them off as job seekers. All of this data helps TalentEgg to synthesize the most important findings to help craft and amplify your employer brand to better attract and engage top students and grads and become an employer of choice for young talent. Join Mary Barroll as she discusses all the biggest workplace and recruitment trends of 2022 for students and new grads and the best content marketing and branding strategies to help you capture their attention, attract and engage top young job seekers!